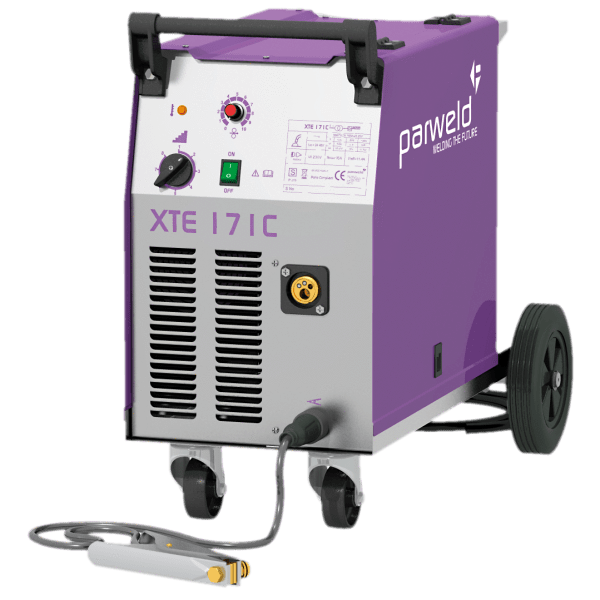 XTE 171C Automotive Compact MIG Machine
by Parweld
XTE 171 Automotive Compact MIG Machine
DC Output
The XTE 171 Automotive Compact MIG Machine has a DC output and when combined with the correct type of wire it is suitable for welding mild steel, stainless steel and aluminium.
Reliable Feeding
The feed box ensures reliable feeding of 0.6mm and 0.8mm wires.
Versatile and Portable
The XTE 171 cabinet can accept a gas cylinder and its large wheels mean it is easily portable and can be moved from job to job.
Single phase compact MIG machine supplied with built in wire feeder, suitable for light manufacturing, maintenance repair and automotive.
Additional information
Attribute:Wire Feed Speed

1.5-14m/min

Input Voltage

230V 1P

Input Current (Max)

27A

Minimum Fuse Rating

16A

Attribute:Machine Type

Transformer

KVA

6.45

Attribute:Style

Compact

Duty Cycle

165A @ 15%

Attribute:Maximum Current

27A

Attribute:Voltage

19-37V

Attribute:Spool Size

300mm

Attribute:Feed Box

2R

Attribute:Wire Size

0.6 – 0.8mm

Enclosure Protection

IP21S

Dimensions (mm)

705 x 420 x 630

Weight (kg)

38.3

Key Features

• 230V Single Phase
• 165A @ 15% Duty Cycle
• 2 roll drive
• Forced air fan cooling
• Infinitely variable wire speed
• Overload warning indicator
• Polarity can be changed for gasless welding
• Built in gas valve
• Soft start control
• Holds 5kg wire spools
• Stand for gas cylinder (half sized)
• 2 years return to base warranty
• Manufactured to IP21S, ISO/IEC 60974-1, ISO/IEC 60974-6 and RoHS Compliant

technology
XTE171C-P1 Package
XTE 171C - Automotive MIG Machine
XTE 171C Standard Package
XTE 171C -Automotive MIG Machine
Earth Lead - 3m
Gas Hose
TR005 - Built in Trolley